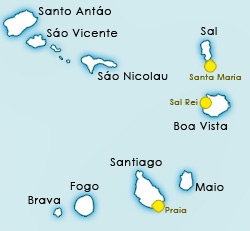 Located fairly close together, the Cape Verde islands still offer totally different landscapes, vegetation and activities. Most charter flights from abroad to Cape Verde goes to the islands of Sal or Boa Vista, but it is possible to get around on your own by boat or plane. Almost all of the Cape Verde islands has their own airport and a ticket between the islands is about 100 euro. Cape Verde is still not exploited towards tourism which means no tourist, desert landscapes, sometimes poor selection of foods at supermarkets and the lifestyle of locals in Cape Verde islands is often primitive and insufficient.
Santiago
Santiago is the biggest island in Cape Verde. The main capital of Cape Verde, Praia, is located on Santiago. Santiago offers the most various nature and scenery perfect for hiking and birdwatching. There are ruins and villages to explore, and the vegetation is green.
Sal
Sal is the most developed Cape Verde island towards tourism, and many travelers end up in the town of Santa Maria in the south of Sal. With this said, you will still experience genuine Cape Verde and Africa on the rest of this island outside of Santa Maria town. Sal is a desert flat island, consisting of nothing but sand and dry soil, almost no vegetation at all. Some remote mountains in the north. There are several salt mines still in use. One salt mine is located just outside Santa Maria to the east of Sal, and one near the town of Pedra Lume up north east. There are many hotels, restaurants and activities to choose from such as snorkeling, scuba diving, surfing, windsurfing, kitesurfing, fishing trips and more, mainly in Santa Maria town. Sal is the best choice of all the Cape Verde islands for watersports, specially for surfing or kitesurfing. The beach in Santa Maria and along the whole southern coast is fabulous. In fact there are several beautiful beaches along the coasts of Sal, mainly on the west side, all the way up to Espargos. North of Espargos one can only expect lavarocks, steep cliffs, rough sea and underwater currents. Along the south coast of Sal are several nesting beaches for the loggerheads turtles.
Boa Vista
The landscape of Boa Vista is very similar to Sal which means flat sandy desert. There are several direct flights to Boa Vista from abroad and the island will slowly grow towards tourism. As for now, Boa Vista is less exploited than Sal. The town of Sal Rei is the most common destination on Boa Vista, and you will find some restaurants and hotels. Boa Vista offers a lovely scenery with beautiful sand dunes and endless beaches and a relaxing holiday. There are some organised activities like watersports. Loggerheads turtles use the beaches of Boa Vista for nesting and laying their eggs.
Maio
Maio is a smaller island not yet progressed or exploited towards tourism. The landscape and nature is similar to Sal and Boa Vista with desert sandy landscapes. Endless empty beaches. Expect traditional Cape Verde villages with a simple lifestyle. Go here if you are looking for peace and quiet. Loggerheads turtles also use Maio for nesting and laying their eggs.
Fogo
This is the only Cape Verde island with an active vulcano. The last eruption was in 1995. You can climb up the peak for great volcanic scenery, perfect for hiking. Some people like birdwatching on Fogo, as on Santiago, but Fogo also offers a coffee and wine making tradition of Cape Verde. The town of Sao Filipe is charming.
Brava
Brava is the smallest of all the Cape Verde islands. You can only get to Brava by boat. Brava is perfect if you are looking for peace and quite. This little island offers lovely nature and pretty scenery and is completely untouched by tourists. The island of Brava inspires artists, writers and musicians. The destination is perfect for hiking or bird watching. Go to Brava if you want to experience true Africa away from any tourists what so ever.
Sao Vicente
Easy access between Sao Vicente and Santo Antáo by ferry. Sao Vicente island is home to many famous Cape Verdean musicians. Choose Sao Vicente if you like live music and desert landscapes.
Santo Antáo
Easy access between Santo Antáo and Sao Vicente by ferry. Santo Antáo is the best island for hiking. Beautiful green nature and many different hiking routs. Santo Antáo is also good for birdwatching or just relaxing in peace and quite.
Sáo Nicolau
Sáo Nicolau is an unexploited island of Cape Verde, no tourist but a lot of charm. Sáo Nicolau is a friendly island with pretty villages. Varied nature and scenery.