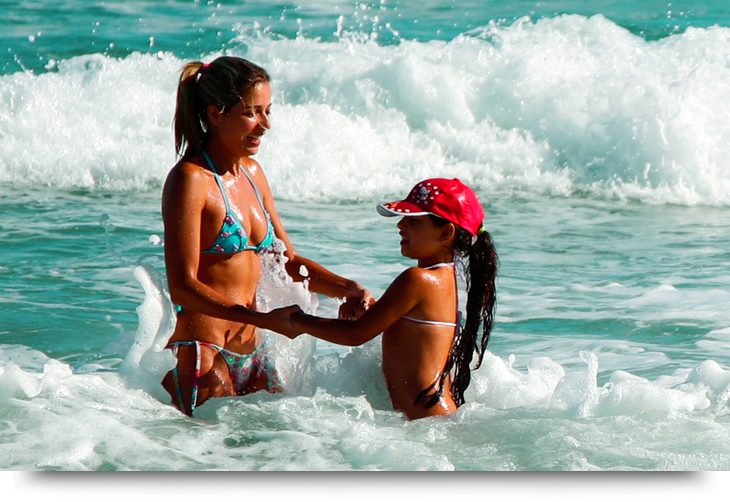 There are no problems traveling to Cape Verde on holiday with children. My daughter is 8 years old and we had a fun holiday in Cape Verde Islands and Sal. We lived in a small and cheap holiday hotel in Cape Verde / Sal, in central Santa Maria town. Breakfast included. For lunch we had some fruits or a pizza at the beach restaurant. For dinner we went to some of the restaurants in Santa Maria. Santa Maria is a very small town, but it has everything you need. The supermarkets are small and a bit primitive, but for buying some water, candy, cookies or juice, it works just fine. If your child has special needs with the food, it might get hard to find exactly what you need in Cape Verde islands. The restaurants in Cape Verde and Sal serve simple dishes and fast food such as chicken or fish with rice or french fries, pasta dishes or meat. Dinner cost about 7-12 euros / person. Stay away from salad and only eat fruits with peel to avoid holiday stomach problems in Cape Verde. This is west Africa after all. There is also a small emergency room / hospital not far from Santa Maria center (out west).
There are a lot of stray dogs in Cape Verde and Sal. They are friendly but I wouldn't let my daughter play with them. You never know!
Finding activities for the children was not to hard in Cape Verde islands. There is horseback riding on the southwest coast of Sal, at walking distance from Santa Maria town. Towards Ponta Preta is also some great sand dunes, and people are surfing there. Watersports or windsurfing might be a good holiday activity for children if they are 12-16 years old, but my daughter was a little too young. We went to the Santa Maria beach during the daytime, playing in the water. Use high sunscreen since there is no shade on this beach. There are quite big waves at the Santa Maria beach. But there is also a smaller beach behind a jetty breaking the waves to the east of the Santa Maria beach, no waves here. Perfect for small children.
Another great holiday tip in Cape Verde and Sal: Walk southeast about 20 minutes from Santa Maria town, to a deserted small cape "Praia Afonso", with an empty mini beach. No waves here but some coral, and also a small pond where your children or even small children can snorkel and play. Water is only 0,5m high turquoise & crystal clear, filled with tropical fish. Perfect and free holiday activity for the children! You might need to use beach shoes at Praia Afonso since there might be some glass in the sand (not much). Rarely any people here at all, it is empty. Bring water and food.
On the pier in Santa Maria, fisherman are cleaning the fish, and people sell shells and other souvenirs. There is also a yellow submarine type boat called Neptunus. At the bottom of this boat are windows to let you see the fish down below (adults 30 euros/p, children 15 euros/p). In November and December the loggerhead turtles lay their eggs at night on the beaches around Sal, and the small turtles hatch some weeks later. Trips are organized to see this. Great fun for children. There are several beachens around the south of Sal, close to Santa Maria where the turtles are nesting and laying their eggs.
One or two holiday weeks in Cape Verde islands and Sal is enough, a longer stay could get boring in the long run, specially for the children. The town of Santa Maria in Sal is very small but charming. Not a whole lot to do besides sunbathing.
It's always windy in Cape Verde, bring a warm sweater for chilly evenings. Some places in Cape Verde and Sal are not clean and there is garbage everywhere, and the locals just outside the center of Santa Maria town are very poor. Most of the people in Cape Verde islands seem to live in poverty. I hope the growing tourism will help them. Cape Verde islands is a relaxed holiday destination and the locals are very friendly.
// Maria & Paula, Spain