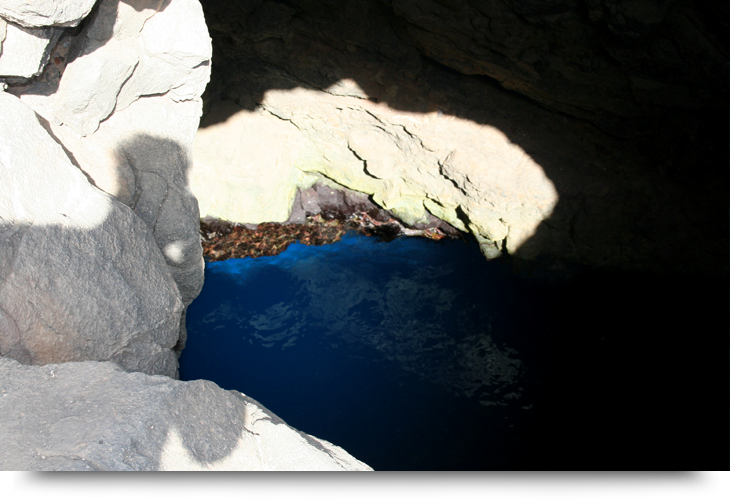 Buracona is one of the few recognized tourist attractions of Cape Verde islands and Sal. There are guided tours to the "Blue eye", a beautiful underwater cage turning magic blue and turquoise by the sunlight. Just ask your hotel or travel organizer for more information. It is much more rewarding to come here on your own since the coast line from Palmeira is beautiful. You might want to stop on the way, and also get away from the tourists. There is a restaurant at Buracona, serving lobster for 2 (at a cost of about 50 euro total). The view from the restaurant is spectacular.
Buracona and the "blue eye" is basically a natural pool formed by the ocean into the lava rocks. When the light hits this natural pool from the right angle, the color turns into a magic turquoise blue. It is absolutely beautiful. You can swim in the natural lava pool right next to the "blue eye" but this can be dangerous on windy days. Experienced divers might explore the hidden caves and grottos at this fantastic spot.
A few hundred meters up north, locals are fishing of the steep cliffs. The surroundings are pretty with the mountain Monte Leste on one side and the rough ocean on the other. The rest of the surroundings is just plain flat desert. The road from Palmeira to Buracona is about 5 km gravel mixed with sand, bumps and small rocks. It is possible to get here by rented moped or motorcycle if you are adventurous, but a quad or a jeep is probably more comfortable.