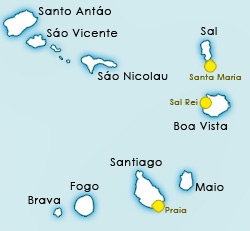 Cape Verde is a fairly new destination of West Africa. Despite increasing charter and cheap holiday deals towards tourism Cape Verde is still not very exploited. The town of Santa Maria on the island of Sal, is the most common holiday destination of all the Cape Verde islands, but even outside of Santa Maria town one will find genuine Africa. Cape Verde is located just west of the African mainland with Senegal and Gambia as the closest neighbours.
Some tourist get disappointed expecting the Canary Islands, but Cape Verde is nothing like that. In fact everything is different. Sal or Boa Vista are just desert sandy and flat resorts, and does not offer big shopping malls, tons of guided tourist attractions or McDonalds in every corner. In fact you will probably find yourself as the only tourist in sight when exploring the Cape Verde islands.
The islands are fairly close together but still offer extremely various nature and activities. Come here with an open mind and Cape Verde islands will give you a true and genuine experience of Africa. Don't forget to check out our tips on free activities & things to do.
Facts Cape Verde islands
Area: 4 036 km2 (1 558 square miles)
Population: 500 000
Capital: Praia
Language: Portuguese, Crioulo
Religion: Roman Catholic, Protestant
Currency: Cape de Verde escudo (you can also pay with euro)
Information about the Cape Verde Islands
The Republic of Cape Verde consists of 9 islands located in the central Atlantic Ocean, 570 kilometers (350 miles) off the coast West of the African mainland.
Sal, Boa Vista and Maio are flat, dry and sandy deserts, but you will find great beaches. Santo Antáo, Sáo Vicente, Sáo Nicolau, Brava and Santiago, are rockier and have much more vegetation. Fogo is the only island with am active volcano.
Read more about the different islands in this article.
You can get around the Cape Verde islands by boat or air traffic. Almost every island has their own airport. The weather is warm and comfortable all year around. Most flights to Cape Verde from abroad goes to Sal or Boa Vista, and Santa Maria town is the most common tourist destination. Cape Verde is known for having loggerheads turtles laying their eggs on the islands of Sal, Boa Vista and Maio. Sal is also a mecka for water sports like windsurfing and scuba diving. It is always windy in Cape Verde Islands, but the weather is still warm and sunny, and it rarely rains at all.
Keep in mind that Cape Verde is unexploited and unpolished and many locals are very poor. Few people shop for fun rather than necessity, and there are no shopping malls or fancy fashion stores. Restaurants often serve simple fish based dishes. The supermarkets sometimes have poor selection of foods at expensive price and many "roads" are just wheel marks in the sand. With this said, the beaches and ocean are exquisite and the people are very friendly and helpful.
History
Until 1456 Cape Verde islands were uninhabited when discovered by the Portuguese who claimed the islands as their first west african settlement in 1460.
In the 1540s, the islands were then populated one by one and Cape Verde were declared a Portuguese colony. Positioned between Africa, Europe, and the New World, the islands became center for the slave trade, and later a shipping port.
In 1680, the vulcano of Fogo erupts violently.
1770, Praia becomes the Capital.
1772 and 1902, a series of droughts hits Cape Verde islands, leading to significant emigration and death.
1956 is the starting point for Cape Verde independence through PAIGC, which leads to war against Portugal.
In 1974 the Portuguese regime falls and Cape Verde independence is declared in 1975. Aristides Pereira becomes the first president.
1992 – The first multi party elections is held in 1992 and Mascarenhos Monteiro becomes president.
1995. Fogo has another eruption.
Present time, the tourism is starting to bloom and direct flights from the UK is available since 2006. Sal and Santa Maria town is the most common destination, followed by Boa Vista, and vendors from Senegal and Gambia soon finds their way to the islands to sell west African souvenirs to tourist. Till this day, Sal is still under construction and development towards tourism, with a promise of large hotel complexes and growing constructions sites. In a couple of decades, one can probably expect a full grown tourist inferno at Cape Verde islands, at least on Sal.